---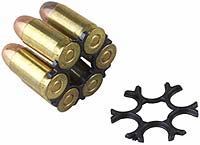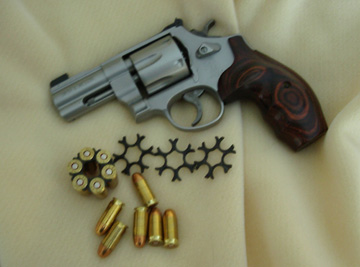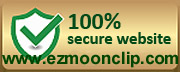 Attention: Ruger Super GP 100 in 9mm users: See RIMZ 929 in 9mm on left.
Attention: Ruger Super Redhawk in 10mm. see RIMZ 610 on left.
Attention: RUGER GP 100 in 10 MM.......Please click on RIMZ 646 on the left..Also read S&W 40
Attention: TAURUS 692 in 9mm users. The RIMZ 986 will fit your gun perfectly, click RIMZ 986 on left..
Photo above is a S&W 625-6 (45 ACP) ( Large)"N" Frame Revolver with a 3" Barrel & RIMZ 625 moon clips

You DO NOT have to be a member of Pay Pal to use Pay Pal, Just give them your credit card number like usual.........

RIMZ Moon Clips by Beckham Products Design LLC

Made from space age hydrocarbon polymers

This moon clip will last as long as a metal moon clip and you will not wear out your fingers loading and unloading.

This moonclip is used in IDPA, IPSC, Steel Challenge and ICORE competitions.